What if there was a way to treat muscle injuries with nothing but the power of acoustic waves?
Introducing shockwave therapy – a non-invasive therapy used to help reduce ongoing pain throughout the body. Shockwave therapy is a newer type of treatment, only seeing widespread use for physiotherapy after the amazing discovery that acoustic waves could break down gall and kidney stones within the body.
Today, shockwave therapy is an extremely common modality of treatment to see in physiotherapist offices everywhere – and for good reason! But before we can go over how shockwave therapy can help you overcome pain and injury, we have to understand how it works.
How does shockwave therapy work?
Shockwave therapy, also known as extracorporeal shock therapy, is a relatively new tool in the toolkit of physiotherapists everywhere. The process depends on a shockwave machine, which produces low-level acoustic (sound) waves. These are precisely used throughout the body to target areas that are suffering from pain, injury, or limited mobility, particularly in the ligaments and tendons.
Contrary to the name, shockwave therapy does not involve electrical current touching your body. Instead, it uses high-energy acoustic waves which are tailored in strength to suit your body. Shockwave therapy will affect only the tissues that it's used on, creating healthy inflammation and stimulating the body's natural healing response.
There are countless potential benefits of shockwave therapy, and our physiotherapists always customize treatment plans to fit each client's exact needs and goals. However, some of the effects you can expect to see are:
Depending on the issues that bring you to us for shockwave therapy, we'll create a customized treatment plan concerning the frequency of your appointments. Typically, we only have to do 3-5 weekly shockwave therapy appointments to see improvement in our patients.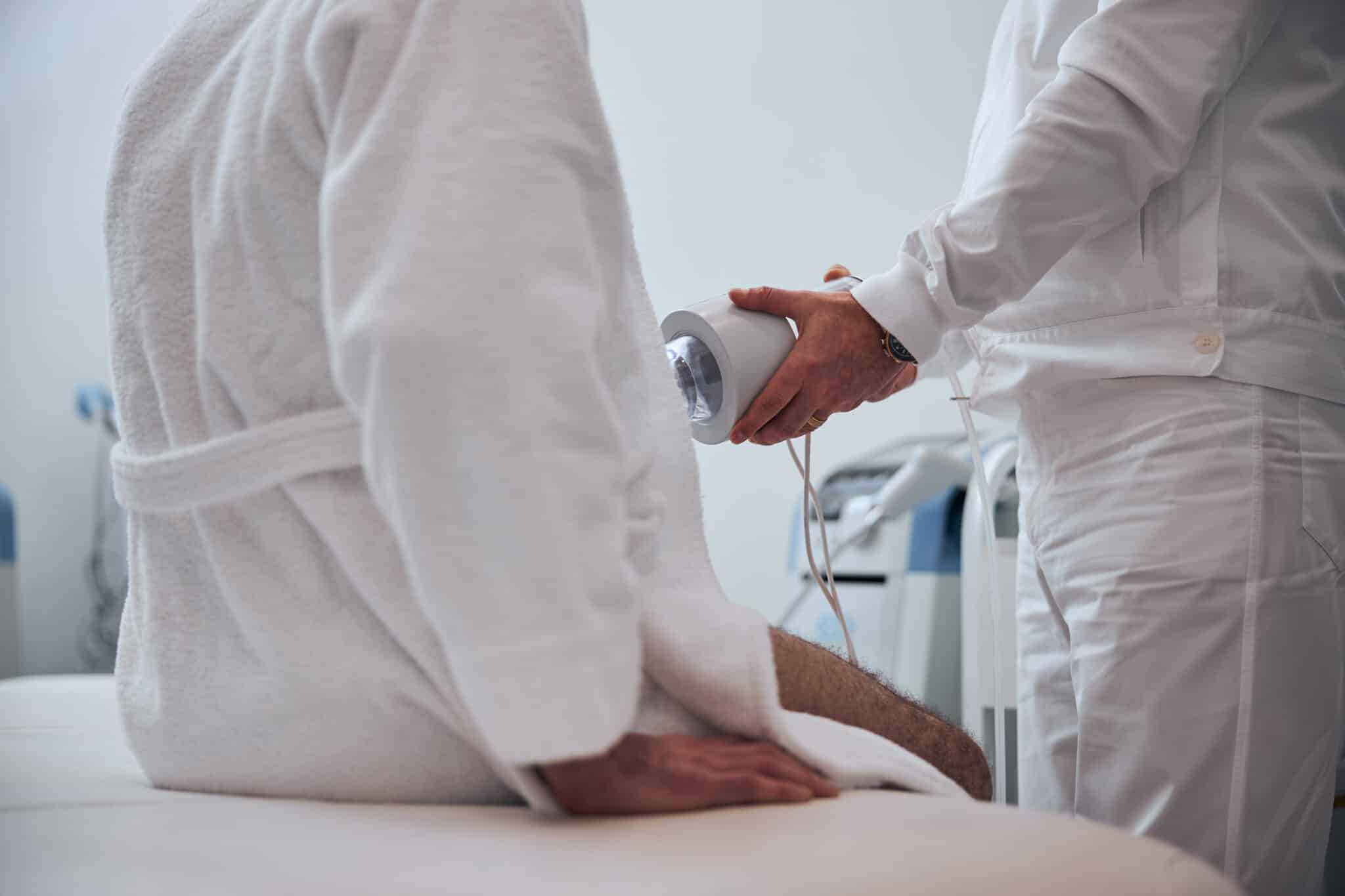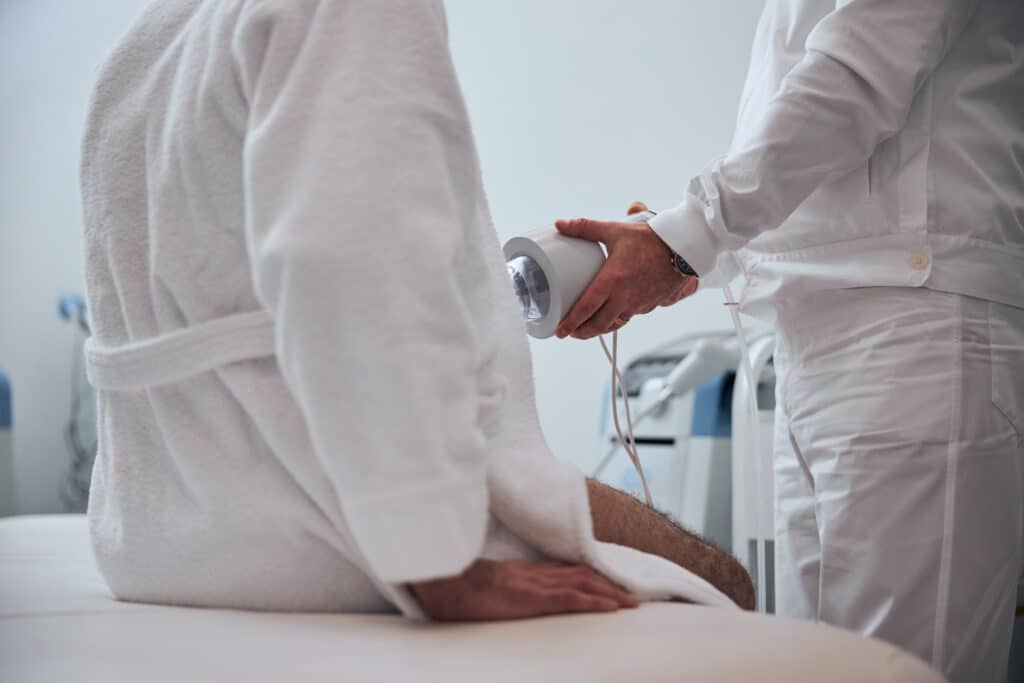 What can shockwave therapy help with?
There are many, many applications for this type of therapy – even beyond the realm of physiotherapy! Shockwave therapy is used in different ways for many disciplines, such as orthopedics, urology, and veterinary medicine. But of course, shockwave therapy is also a valuable tool for physiotherapy, sports medicine, and physical rehabilitation.
At Nova Physiotherapy, we believe in taking a highly customized approach to each and every client. This means that depending on the symptoms you're dealing with, our therapy experts may or may not recommend shockwave therapy. With that said, there are a few conditions that almost always benefit from this modality of care. These conditions include:
Bear in mind that these are just some of the applications for shockwave therapy. If you're having other physical symptoms (especially if they relate to connective tissues like tendons and ligaments), shockwave therapy might still be a great option!
NEED HELP RECOVERING
FROM YOUR INJURY?
NEED HELP RECOVERING
FROM YOUR INJURY?
Port Coquitlam Shockwave Therapy Hours & Location
Do you have a soft tissue injury that needs rehabilitation?  Our physiotherapist in Port Coquitlam / Coquitlam BC can guide you to a swift recovery that's completely stress-free.
Your Port Coquitlam physiotherapist will provide you with a custom physiotherapy treatment plan. Sessions with our Port Coquitlam physiotherapists  are free of charge with ICBC funding and there are no user fees.
Suite 112 – 3200 Westwood Street,
Port Coquitlam
Call us: 604-783-8300
Monday: 8 am to 8 pm
Tuesday: 8 am to 8 pm
Wednesday: 7 am to 8 pm
Thursday:  8 am to 8 pm
Friday: 7 am to 4 pm
Saturday: 9 am to 130 pm 
Sunday: closed 
Getting started with shockwave therapy
Whether you're an active person or an athlete that needs your body to be working at 100%, or you're simply feeling the physical effects of inflammation and pain throughout the body, shockwave therapy can help.
Using the amazing technology of controlled, directed sound waves, we can accurately and effectively target problem areas in the body. Within just a few sessions, you'll begin to feel less pain, more mobility, and a greater sense of physical ability in general. If the science behind this exciting treatment wasn't so well-understood, it would almost seem like magic!
So if you're experiencing joint pain, tendon discomfort, or limited mobility throughout the body, try shockwave therapy! Our team of physical therapy experts is ready to sit down and get to know you, working closely alongside you to create a custom treatment plan that helps you reach your goals at your own pace.
Interested to learn more about shockwave therapy? Ready to sit down for a consultation and find out if it's the right treatment for you? Get in touch with us today!