Nova Active Rehab is now offering the same great service online! Experience our professional telehealth services from the comfort of your home. Our kinesiologists will teach you exercises remotely over a video conferencing platform.
Telehealth or telerehabilitation are other terms to describe virtual or online kinesiology. The result is the same: you can heal your body, even if you're unable to leave your home. Perhaps you were in a car accident, and can't travel to a clinic right now. Maybe you're self-isolating and still in need of active rehabilitation.
Whatever your reason may be, know that we're here to help you stay on course with your rehab program! Just like our in-person services, virtual kinesiology fees are covered 100% by ICBC. Get the help you need for your soft tissue injuries online!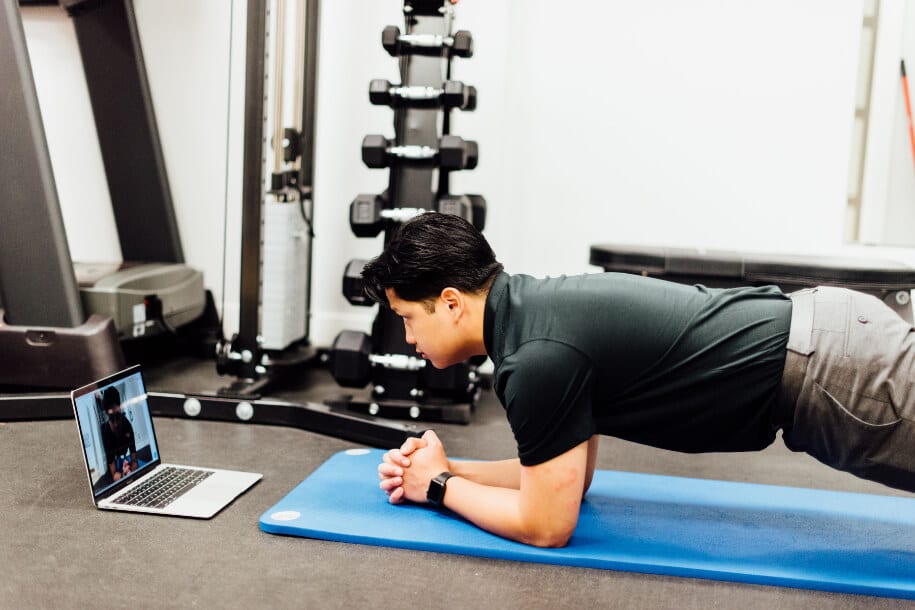 Active rehab is extremely effective in treating soft tissue injuries, thereby reducing your pain symptoms.
You may not be able to leave your home right now for several reasons. However, your body still needs to heal. To abandon your program would mean starting at square one all over again in terms of healing.
We're here with you, online. And we want to help you get back to normal!
NEED HELP RECOVERING
FROM YOUR INJURY?
NEED HELP RECOVERING
FROM YOUR INJURY?
Frequently Asked Questions
Our rehab professionals are physiotherapists and kinesiologists. They are dedicated to providing you the best care and experience throughout your rehabilitation.
What is virtual kinesiology or telehealth?
Virtual kinesiology or telehealth treatment is where a kinesiologist instructs you to perform a series of exercises in your home in order to help you with your fitness or rehabilitation goals.
Each session will take place on video conference software that you can access from your phone, tablet, or computer.
What exercise equipment is needed to participate in virtual kinesiology treatment?
Although you do not need specific exercise equipment in order to participate in virtual sessions, it is helpful if you have a mat or elastic exercise band.
We can mail you an elastic exercise band if you don't have it already. Let us know when you contact us.
What kind of computer or cell phone do you need to participate in virtual kinesiology?
You can use a desktop computer, laptop, or any mobile device to access our online service.
Browser requirements include Safari (on your phone), Chrome, Firefox, and Internet Explorer. It will not cost you anything to use the video conference platform.
How long are virtual sessions?
Each session is approximately 50 to 60 minutes in length. This will ensure adequate time to go through a thorough exercise rehabilitation program.
Will ICBC fund virtual kinesiology treatment?
Yes, ICBC will fund 100% of the cost. We can directly bill ICBC on your behalf.
A session is 50 minutes in length.